90ies Club @ The Loft – Samstag, 23. April 2022, ab 21:50h
@ The Loft, Lerchenfelder Gürtel 37, 1160 Wien (U6 Thaliastraße)
FB-Event: www.facebook.com/events/567669647701447/567669674368111
IG-Erinnerung: www.instagram.com/p/CbXo7VHMlYH/
Lust auf die größten Hits des aktuellen Mode-Lieblingsjahrzehnts? Dann geht's am Samstag, den 23. April 2022, ab ins The Loft, denn dort findet der 90ies Club statt!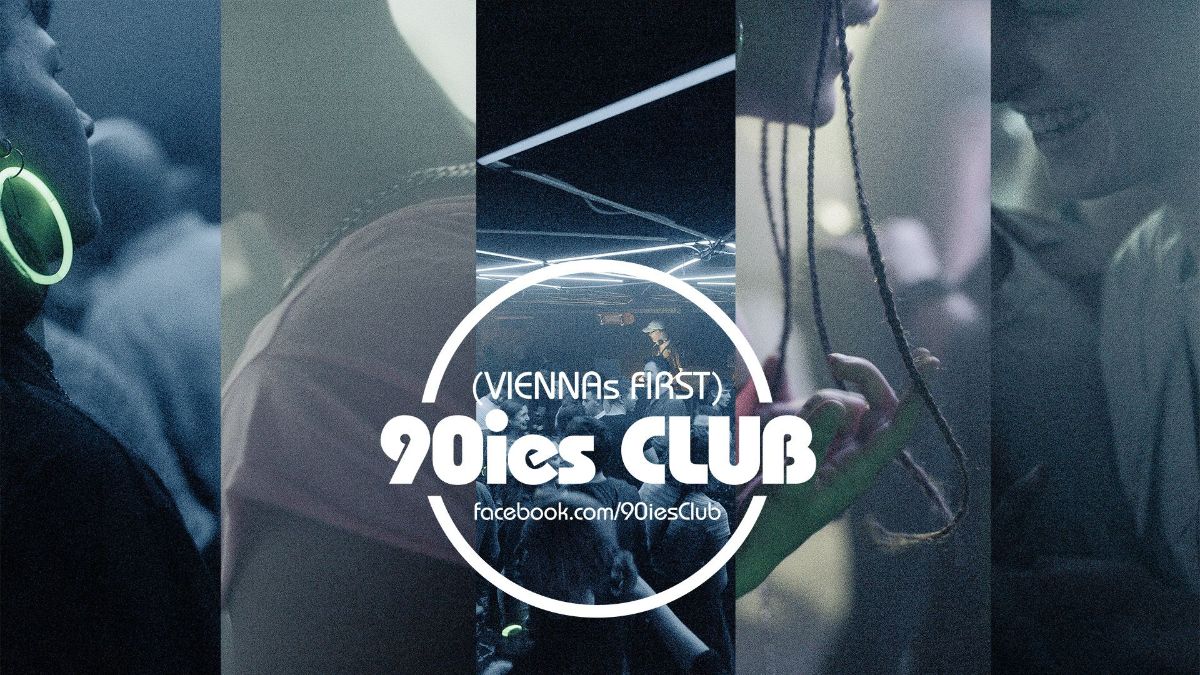 Oben startet um 21:50 Uhr der BEATS.floor, der diesmal von der Crew vom HIP HOP JAM gehostet wird. Die DJs Lady Saphira, Ch-Tafarie, Dmastarr und Sammogly stehen an den Turntables bereit, um tanzfreudiges Publikum mit den passenden Beats zu versorgen. Durch den Abend führt Host Dr. Ill. Außerdem gibt es auch wieder die Gelegenheit an einem SketchBattle mit dem Graffitikünstler Taz teilzunehmen.
Nach Mitternacht öffnet dann unten der POP.floor, wo DJ Willi T. gemeinsam mit 90ies Club Erfinder David Jerina die größten Hits des Jahrzehnts auflegen. Als kleines Andenken gibt es diesmal Schnapparmbänder.
BEATS.floor OBEN ab 21:50h mit DJs Lady Saphira, Ch-Tafarie, Dmastarr, Sammogly + Host Dr. ILL + SketchBattle by Taz (Floor hosted by HIPHOP JAM)
POP.floor UNTEN ab 00:30h mit DJs Willi T. & David Jerina
 Gratis Schnapparmbänder!
FB-Event: www.facebook.com/events/567669647701447/567669674368111
IG-Erinnerung: www.instagram.com/p/CbXo7VHMlYH/
Ticketing 1/5/8/10€ www.theloft.at/sat
Tischreservierungen: www.theloft.at/reservierung
Vorverkauf: ntry.at/shop/LoftSat
Covid-Maßnahmen: www.theloft.at/Covid
➡ Instagram: www.instagram.com/retropartyvienna
Sa. / Monat: 2000s Club mit POP.floor & ROCK.floor
2. Sa. / Monat: 90ies Club mit POP.floor & ROCK.floor
3. Sa. / Monat: 2000s Club mit POP.floor & BEATS.floor
4. Sa. / Monat: 90ies Club mit POP.floor & BEATS.floor
5. Sa. / Monat: SINGLE PARTY mit 90ies.floor & 2000s.floor
Ticketing 10€ – Infos zu Vergünstigungen (z.B. 1€ Eintritt) hier: www.theloft.at/sat
Sound + Acoustics by Wolfgang Sauter | Pro Performance, the anchor of sound.
NO PLACE FOR RACISM, SEXISM, HOMOPHOBIA AND TRANSPHOBIA
(VIENNAs FIRST) 90ies CLUB sounds like
112 ♬ 2Pac ♬ 2 Unlimited ♬ 20 Fingers ♬ 4 Non Blondes ♬ 5 Sterne Deluxe ♬ A Tribe Called Quest ♬ Aaliyah ♬ Absolute Beginner ♬ Ace Of Base ♬ Adina Howard ♬ Aphex Twin ♬ Armand Van Helden ♬ Arrested Development ♬ Aqua ♬ Backstreet Boys ♬ Bad Religion ♬ Basement Jaxx ♬ Beastie Boys ♬ Beck ♬ Big Pun ♬ Björk ♬ Blackstreet ♬ Blink 182 ♬ Bloodhound Gang ♬ Blur ♬ Blümchen ♬ Brandy ♬ Busta Rhymes ♬ C+C Music Factory ♬ Captain Hollywood Project ♬ Captain Jack ♬ Ce Ce Penston ♬ Chemical Brothers ♬ Coolio ♬ Crystal Waters ♬ Culture Beat ♬ Cypress Hill ♬ Daft Punk ♬ David Morales ♬ De La Soul ♬ Destiny's Child ♬ dEUS ♬ DJ Bobo ♬ DJ Hooligan ♬ DMX ♬ Dr. Alban ♬ Dr. Dre ♬ Dru Hill ♬ Erasure ♬ E-Rotic ♬ EMF ♬ Edelweiss ♬ Everything but the Girl ♬ Faith Evans ♬ Faithless ♬ Die Fantastischen Vier ♬ Fatboy Slim ♬ Felix ♬ Foo Fighters ♬ Foxy Brown ♬ Freundeskreis ♬ Fun Factory ♬ Gala ♬ Garbage ♬ Ginuwine ♬ Green Day ♬ Guns'N'Roses ♬ Haddaway ♬ Heavy D & The Boyz ♬ Hole ♬ House of Pain ♬ Ini Kamoze ♬ Inner Circle ♬ Jamiroquai ♬ Janet Jackson ♬ Jay-Z ♬ Jazzy Jeff & the Fresh Prince ♬ Jermaine Dupri ♬ Jestofunk ♬ Jodeci ♬ Josh Wink ♬ K7 ♬ Kriss Kross ♬ La Bouche ♬ Lauryn Hill ♬ Leftfield ♬ Leila K ♬ Lenny Kravitz ♬ Lil Kim ♬ Live ♬ LL Cool J ♬ Lucilectric ♬ Magic Affair ♬ Marilyn Manson ♬ Mark Morisson ♬ Marusha ♬ Mary J. Blige ♬ Mase ♬ Massive Attack ♬ Masterboy ♬ Masters At Work ♬ MC Hammer ♬ MC Lyte ♬ Metallica ♬ Missy Elliot ♬ Moby ♬ Molella ♬ Monica ♬ Mousse T. ♬ Mr. Big ♬ Mr. President ♬ Mya ♬ Nas ♬ Naughty By Nature ♬ New Edition ♬ Next ♬ Nine Inch Nails ♬ Nirvana ♬ Notorious BIG ♬ Oasis ♬ The Offspring ♬ The Outhere Brothers ♬ Pavement ♬ Pearl Jam ♬ Perplexer ♬ Pras Michael ♬ Primal Scream ♬ Prince Ital Joe feat. Marky Mark ♬ The Prodigy ♬ Puff Daddy ♬ R. Kelly ♬ Rage Against the Machine ♬ Red Hot Chili Peppers ♬ Rednex ♬ Reel 2 Real ♬ The Real McCoy ♬ Robin S ♬ Roxette ♬ Salt-N-Pepa ♬ Schwester S. ♬ Schönheitsfehler ♬ Scooter ♬ Scorpions ♬ Shabba Ranks ♬ Shaggy ♬ Shai ♬ Silk ♬ Skee-Lo ♬ Snap ♬ Snoop Doggy Dogg ♬ Snow ♬ Soul For Real ♬ Soundgarden ♬ Spice Girls ♬ Stereo MCs ♬ die Sterne ♬ Stone Temple Pilots ♬ Sven Väth ♬ SWV ♬ Tag Team ♬ Technohead ♬ Technotronic ♬ Texta ♬ Tic Tac Toe ♬ TLC ♬ Tocotronic ♬ Todd Terry ♬ Type O Negative ♬ U96 ♬ Ugly Kid Joe ♬ Usher ♬ Urban Cookie Collective ♬ Vanilla Ice ♬ Vengaboys ♬ Warren G ♬ Westbam ♬ Whigfield ♬ Will Smith ♬ Wu-Tang Clan ♬ Zhane …